Last time I was in this position I had 10 different societies to cover in one review; now I have 13. Apologies then, for a slightly longer than typical article but if you want to skip to the punchline, this is definitely the best Pure Dance I've ever been to. 

For the uninitiated, Pure Dance is the annual showcase for all 13 dance societies in the University to put everything together in one massive show: this year performed at the Guildhall.
Anyway I'll do the run-down dance by dance, and I'm sure if I make any minor criticisms I'll have plenty of stimulating comments to read. Here we go, in alphabetical order:
Afrodynamix
A new addition this year, Afrodynamix is a—traditionally Afro-Carribean—big, exciting street-dance like style that looks like a lot of fun and involved a lot of…er… "booty"? The only criticisms I can level are that there were only a few dancers (but it's a new society, so there's promise) and the music was a touch quiet (not the fault of the performers, clearly). I'd have loved to see more of it. Anyway, big music, big moves, bombastic performance, and entertaining as heck.
Ballet
I've already intimated in the past that ballet isn't normally my cup of tea but this time round I wasn't even "quite happy" or "mildly entertained"; I really really enjoyed it. The beginners/improvers slot was cheerful and had a nice flourish at the end, the pointe was very talented and impossibly smooth, and the intermediate ballet had—at least to my mind—a brilliant chess theme running through it with black and white dancers squaring off across the stage. The final advanced group had a wonderfully unique asian theme underlying the performance and while I can't speak to the technical expertise it was certainly visually impressive.
What stood out more than the others however, was the result of a massive technical mess during the advanced squad performance to Max Richter's "November" (look it up, it's a great tune) where the music completely died for four fifths of the song. While this is presumably unlikely to recur, I actually liked it. I have no idea how they kept such good time and it was surprisingly dramatic to watch most of the performance in silence. Thankfully they were able to re-do the routine later on (soundtrack in-tact).
Ballroom and Latin
In the past Ballroom and Latin suffered from a small stage and not being able to really "do" any proper sequences without crashing into each other/the audience. The new venue basically fixed that problem and while there were still contrived portions of hand-waving the partner work was superb and; unlike previous years; featured a decent spot of ballroom as well as lots of latin. Traditionalist it may be, but the Viennese waltz was particularly well performed. I'd still love to see even more partner work but it's definitely the best performance I've seen.
Belly
Another nice surprise here. I remember thinking last time some more fast-paced hip wiggling (there's probably a technical term there) would've made the whole thing more exciting; and it was so. The advanced group's act looked very technically difficult and (as expected) big and colourful too. In contrast some of the beginners looked a touch uncomfortable on stage; which is a shame because their finale involving some big wing-shaped props was very fast and exciting. On a side note I don't know what the opposite of "body shaming" is but it was nice to see a broad cross-section of all shapes and sizes dancing and enjoying themselves.
Bhangra
If I say Bhangra wasn't surprising or unexpected in any way it'll almost certainly sound like a bad thing. Fact is it was exactly the explosion of colour and energy I'd come to expect from seeing a couple of their earlier performances. If you ever want to get this intense fuzzy feeling of enjoyment you can only experience from a dance where the dancers are clearly having the time of their lives, find a show where these guys are performing. I only wish they had more than one slot.
Break Dance
Break dancing will always be hobbled by the high standard of super-exciting head spinning antics people expect of it, and in the past it's seemed like keeping the audience interested in between these sections was the biggest challenge. More or less, they pulled it off this time. Even the beginners performance had a consistent speed and dynamism to it, although I feel like there was a bit less "vigour" than there could've been? It's always hard to gauge from a first show with a modest audience and I'm sure it kicked up a notch with a more excited atmosphere. I also missed the "break battles" of the last few years although the comedy stylings of the advanced performance was very entertaining.
Contemporary
In a show full of pleasant surprises, contemporary was possibly the pleasantest. The beginner routine was a little more "traditional" and lyrical, but it certainly looked skillful. Not that I'm the best judge of these things… The advanced and advanced-squad were the highlight for me. Advanced used very low purple stage lighting, and little LEDs tied to hands and ankles to give this quasi-futuristic look that tied nicely to the frantic musical tone. That same energy was present in the squad performance to "End Credits" by Chase and Status; with a whole bunch of kicks and a sort of street-dance influence. For what it's worth this philistine thoroughly enjoyed it.
Irish
I wish there was MORE! This one was tons and tons of fun, and left me with a big smile at the end. There was almost a comedy element to it with this fantastic juxtaposition between the relatively up-beat and cheerful first and third sections of the performance and the much more serious, po-faced and punchy second and fourth parts. I don't know if this was intentional but it worked brilliantly well, and made it feel very theatrical. My understanding is that it was a split between "soft shoe" and "hard shoe" styles but either way both were exactly the kind of fast-paced-fun you'd expect. In fact, it was the kind I'd expect from a dance society with a lot more experience under their belt!
Jazz
Jazz covers a very very wide range of styles and unlike last year, the focus this time around was on more of the lyrical, slow, flow-y movements than big-band musical numbers (with the notable exception of a colourful and cheerful beginner's routine). I can't say I'm as sold on this style as it seems contemporary dance pretty much has that niche covered. Nonetheless there was nothing wrong with the performances and the advanced squad gave a crowd-pleasing and dramatic turn with an African flavour to it. I'm sure someone will go to great lengths in the comments to tell me how ignorant I am, but I guess it just wasn't quite what I was expecting.
Kandyan & Bharata Natyam
Another new start, I'm told these are traditional Sri Lankan and Indian dances. Although the movements weren't as big and bold as, say, street or Bhangra, there was a real elegance to it that I enjoyed. The costumes were great, the ankle bells worked well and the choreography was superb. This may have been a new addition to the lineup this year but it looked extremely polished and I'm keen to see what they come up with in future.
Salsa
I always think Cuban salsa is a lot of fun to watch, and it's testament to the choreography that they can turn a partner-focussed dance (usually done in a group) into something so visually appealing to spectators. Cross body and beginners were fun too, although there seemed to be mixed messages about how cheerful the dancers were meant to appear. It could be a result of first-show nerves or the slightly downbeat atmosphere, and it didn't detract from an otherwise intensely enjoyable Latin American flavoured experience. Quite how they pulled off the moves without dislocating each other's shoulders or tying themselves in knots is beyond me.
Street
No surprises from Street this year: they've always had a high standard of fast and well-choreographed routines and this year was no exception. Even the "foundation" performance was big and bold and seemed to take some cues from break dance's "toprocking". There's not much more to add beyond that it was all clearly very well practiced and very slick. Can't say I'm 100% sure what the "Friendzone" and "Player" t-shirts meant though…
Tap
If the jazz performances lacked a bit of showmanship and sparkle it seems the tap routines were designed to make up for it. I'd have liked to see (hear) some super-skillful tapping without music to distract from the focus of the performance, but the problems with being able to hear the footfalls were certainly lessened (though not absent) with what appeared to be stage mics. Mostly though my take-home was how well they combined jazzy, theatre style elements into all the performances. From the schoolyard-adult-old age quasi comedy of the advanced squad, the jazzy intermediate routine to "Let's Face the Music and Dance" and the novice squad's paso-tango type fusion it was a glorious cacophony of colour and sound and fun. Lots and lots of fun.
Anything else?
I've already gone on far too long with this review but I'll quickly mention that the technical side was fine, if uninteresting. The music dying for the ballet squad and some painfully searing lighting were blips in a functional show. The VTs were a bit forced (but probably necessary to give the performers some breathing space) and it's a shame the Guildhall's seating isn't at more of a stage-friendly angle. But hey; everything bad accounts for (total) half a star out of five and if you aren't already tempted to seek out showcases and performances to see this talented bunch, then I implore you to do so. You won't regret it. Go. Go now.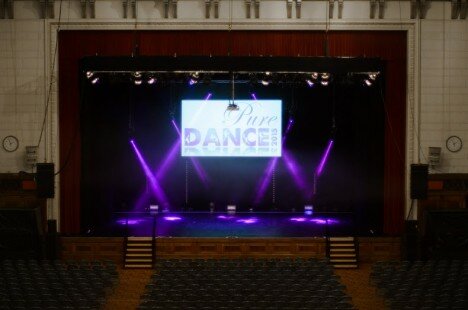 Did you see Pure Dance 2015? Let us know your thoughts in the comments!