The owners of Jesters night club have splashed out £7,000 on a refurb to vamp the place up in time for Freshers.
Over the past few weeks intense building work has been taking place in the Palace of Dreams. The flooring has been replaced, the walls repainted and snazzy coloured lights installed. In the outdoors area the classic chestnut brown walls have been repainted a rich terracotta.
The dance floor has also seen a shakeup, with the DJ booth now located in the centre of the back wall. The speakers in the corners have  been removed, meaning more space for madness to ensue on the dance floor (whatever that madness may be).
The infamous toilets, however, remain the same.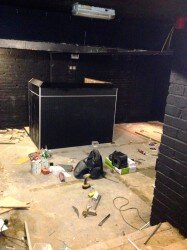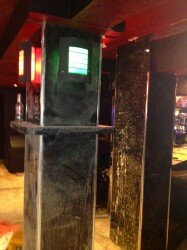 But don't get your hopes up folks, it turns out they do this every year- and has anyone ever noticed?
"We refurbish the place every summer," said Lynda, who has owned the nightclub along with her husband for 30 years.

"We always spend a lot of money on it while the students are away. The sad thing is, they don't even notice, and within a week it's back to its old dirty self again!"
Indeed, at the reopening on Friday night, few students noticed the changes. One intoxicated individual who spent the majority of the night flailing about on the dance floor said:
There's been a refurb? It looks just the same! dancefloor's still grimey, toilets still filthy. But it's Jesters and that's why it's fucking great."
While the refurbishments may not be visible after a couple of Jesticles, it is nice to know that the Palace gets some care and attention every now and then.
But ultimately, we wouldn't want it to lose its cheapo charm, would we?
The owners are seeking some arty students to touch up a wall design in the nightclub. If you're interested email