Over the course of the summer, something exciting began to happen to the music scene of Southampton. Those electric type songs you've been hearing on the radio recently- the same type that your dad says "isn't real music"– got big in the city.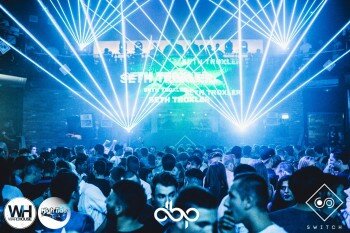 From about July until August, Warehouse Presents systematically announced an absolutely massive autumn/winter line up, the likes of which Southampton has never seen, and which rivals any major city in the UK. For someone like me, this was pretty exciting, so when I found out that DBP would be opening Switch, a brand new club to host the majority of the Warehouse Presents events, I was pretty convinced that this was a big deal.
So being the true, investigative journalist that I am, I decided to track the course of the progression of Switch during its first few months. I wanted to see if it would live up to the hype, or end up being one of those clubs that occasionally has a Geordie Shore character doing a set and gets guest appearances from Emmerdale for special occasions. First up, the opening event: Seth Troxler and Alan Fitzpatrick.
Although I was incredibly excited and really looking forward to seeing some excellent DJs, a tiny dark part of me REALLY wanted it to be a flop. Imagine, this huge club opens up, has a huge promotional period, and I get to write a scathing review about how samey and generic it is, how the sound system wasn't good, how the drinks were ridiculously expensive…
But I just couldn't. The place is really, really fucking cool. To be honest, it's a pretty brilliant way to introduce yourself by starting with Seth Troxler. The guy's a giant in the scene and even if you don't like the music, he's also a bit of an oddball joker, which makes some of the videos of him on YouTube worth a watch.  The music itself was exceptional. The guys were blaring out really great music, on what is supposed to be one of the best (if not the best) sound systems in the south of England. Accompanied by brilliant lighting, LED displays, and with a huge space to dance, it really is one hell of an experience.
Seth Troxler's set was mad, he played a couple of relatively well-known tunes, as well as some more old school stuff that sounded awesome. Alan Fitzpatrick, who I've heard very little about before, was also incredible. Completely different sound, but it was absolutely perfect for the sound system.
I was reluctant to go to the bar for a while, because Saturday nights and previous Warehouse events made me think that drinks would be very pricey, but on inspection, this is probably one of the cheapest places in Southampton on a Saturday night. It's not exactly £1 pints, but it's rare you'll find a club that cheap on a Saturday. I saw a world renowned DJ, had a few drinks whilst out, and got a taxi back- the whole night (including the ticket) costing me £23. In my opinion this is a very reasonable price.
I suppose the only thing I can really complain about is that it was kind of hot? Like, quite sweaty? But isn't everywhere? Or like, most places anyway… I'm kind of clutching at straws here. So let's summarise.
Highlights of the Night: Pretty much everything. Oh, and when Seth Troxler dropped Forget by Patrick Topping. I love that song.
Moans of the Night: Pretty much nothing, apart from the heat. Oh, and when Seth Troxler dropped Forget by Patrick Topping, I completely mistimed the bass bit, started dancing too early, and made an absolute fool out of myself in front of about 20 people.
Rating: I NEVER do this, but I've got to give it a 5/5.
Join me next week as I pretend I've been to Ibiza before, stick my headband on and go to see Viva Warriors, freshly back from their weekly residency in Sankeys.
Have you been to Switch yet? What do you think of the new venue? Let us know in the comments below!