Drama in Portswood this afternoon as a man was chased by the police.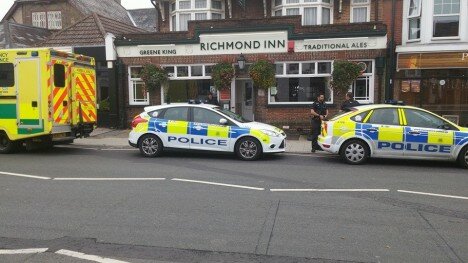 A chaotic scene was created in Portswood at around 4pm this afternoon outside The Richmond Inn.
A witness has told us that they saw a man get hit over the head with a piece of wood causing a huge gash on his forehead and a woman and her baby got covered in lighter fluid but it wasn't lit.
The police arrived and pulled up alongside a "homeless-looking" man carrying a large rucksack, who, upon seeing them, dropped the bag and fled.
Sources tell us that the police chased the man down Portswood Avenue and in a circle till they came back with him in handcuffs.
During this time, another man came past on his bike with a dog and scooped up the bag. The same man arrived back on the scene later without the bag.
The police are now looking for the bag and the previously handcuffed man has been let free.
When we asked a police officer on the scene what was going on, he responded with:
We don't know ourselves
Witness, Ashley, a Second Year Law student, was more helpful and told us:
There were several police cars, I'd say around five or six. I saw one man running away with what looked like blood covering his face. He was with a guy on a bike with a dog. I also saw a guy getting arrested that was cool.
If anyone has any information please let us know and the Soton Tab will keep you updated as we hear more.