Applications are now CLOSED, thank you to everyone who applied. Our AGM is on May 4th 2015 at 6pm in Lanchester Building, Lecture Room E (07/3023). We look forward to seeing you there.
---
Think you've got what it takes to run one of the biggest and best student news publications in the country? Well, look no further.
The Soton Tab is hiring. Sort of. We're looking for a whole team of bright minds to take over as the new Soton Tab editorial team for 2015-2016.
We're looking for dedicated, literate and fun students to continue the soaring success of our beloved student publication.
There will be a transition period during the summer term, you don't need to have written for us before and we're not expecting you to know what to do straight away.
What you do need to know is our tabloid-style. We take pride in being independent from the Union and like to have a little fun from time to time. We also want you to have ideas about how to make the Soton Tab progress even more in the future.
Being an Editor of the Soton Tab is a great way of meeting new people, having a laugh and it looks great on your CV. If you're looking to get a job in journalism, or not, being an Editor for your student newspaper is an amazing talking point in interviews too, especially if your student newspaper engages with thousands of students everyday- which the Soton Tab does.
We don't do democracy at the Soton Tab, instead we choose who gets the job based on applications and ability.
Applications are open NOW and close on Monday 27th April at midnight.
We'll announce the new team at our AGM at 6pm on Monday 4th of May in Lanchester Building, Lecture Room E (07/3023).
There are seven roles that can be applied for, you can apply for more than one and we will select the best for each role.
We've had a shake up of the sections this year to keep things fresh and to aid efficiency. Here is a break down of the roles and what we're looking for:
Editor (x2)
A fan of being in charge? Then this is the role for you. The two people in this role are the bosses – in charge of the whole thing. To publish or not to publish? The decisions you make on a regular basis are seen by the thousands of people who read the Soton Tab every day. You'll need to be able to manage a team, organise meetings and delegate. A fair bit of work, and a lot of responsibility – but incredibly rewarding, fantastic fun and a massive CV boost.
The Soton Tab has over 7600 likes, that's more than any other Tab in the country. It's your job to publish what these guys want to read.
Think you can do a better job than Lucy and May? Then apply at the bottom and tell us why.
Section Editors 
The following Section Editors work in a team and very closely with the Editors. Your section is your baby and you are in charge of recruiting writers and editing articles to be submitted to the Editors. You are the go-to person for anyone who wants to write for your section. You need to be able to source the content and edit articles.
News Editor (x2)
As News Editor, you're all about getting the scoops and publishing the scandal before anyone else. Contrary to popular belief, you don't hack phones or bug offices but it does help having your fingers in a few campus pies. We've got tips and tricks from the professionals on sourcing fast, fun news relevant to students which is guaranteed to rake in the hits. The current Soton Tab team will show you the ropes and clue you up on news reporting and editing, and in no time you'll see your articles go viral across Southampton and sometimes national.
Great news stories we've covered include:
The lacrosse ladies being plagued by a catfish, this student who scared off a burglar in his house and this chaos in Portswood.
We've had many articles go national, including getting in print and on TV, including:
This great piece about the students who filled their housemate's room with 5000 balloons and this fresher who got her head stuck in a bin.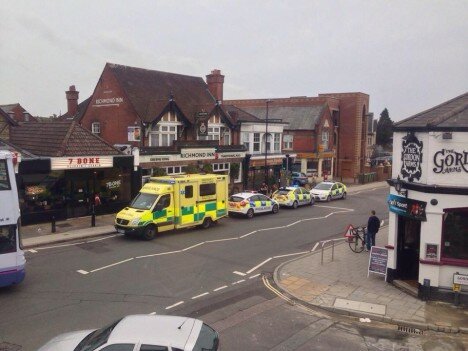 More scoops than Ben and Jerry's- Jack Rivlin, The Tab
Opinion Editor (x2)
We've gained a reputation for publishing opinion columns which provoke furious debates; as an independent site, this is what Soton Tab is all about. Your job is to find angry people, get them to write articles for us and then edit pieces just enough so that we don't get sued.
Our legendary opinion articles include:
Why the conference on Israel's legitimacy cannot go ahead and whether smoking on campus should be banned.

Features Editor (x2)
This role now also includes everything that Lifestyle and Degree Break used to cover as well. No biggie. We're talking all things fashion, sex, nightlife, restaurants and gossip. This section also includes our ever popular WHATSOC articles, Campus Style, Comments of the Month, Vox Pops, live blogs and interviews. Features is a flourishing section that requires you to have a serious but also light-hearted side.
Fantastic features articles include:
This one about how to not be twat on tour, this one about a , this guy who is the only male cheerleader and this student who ate Sainsbury's Basics for a week.

Entertainment Editor (x2)
This role requires coordinating previews and reviews of anything that entertains Southampton students. You'll be running pieces on everything from new films and plays to nightclubs and local gigs. Being on top of the latest goings-on on the entertainment scene is a must. You'll probably bag yourself a few free tickets too.
Examples of what Entertainment Editors deal with include:
Cinema reviews, theatre reviews and big acts coming to Southampton.
Sport Editor (x2)
There's so much sport going on in Southampton, as Sports Editor you'll be covering the latest results from the biggest games as well as keeping up to date with the sports teams. This includes chatting to the sporting Captains, getting match reports and looking out for anyone misbehaving. Varsity is your forte and it's a whole lot of fun. We don't cover national sports but we do so well in sport as a University that we don't have to.
Our great sports coverage includes:
Varsity, Southampton winning,  interviews and match reports.

Recruitment and Social Sec (x2)
This is a new role that we're really excited about. We're looking for innovative ways of getting more writers into our and getting people involved. We also want you to arrange top socials for writers and editors. We're thinking fancy dress, pub golf, Manzils – you name it. We want you to wear our Tab T-shirt proudly around campus and in nightclubs (not all the time, but a lot) to promote us.
Feel free to message any of our current editorial team for advice or email
Think you've got what it takes? Apply now. Applications close on Monday 27th April at midnight.
We look forward to seeing you at our AGM on Monday 4th May at 6pm in Lanchester building, lectUre room E (07/3023).